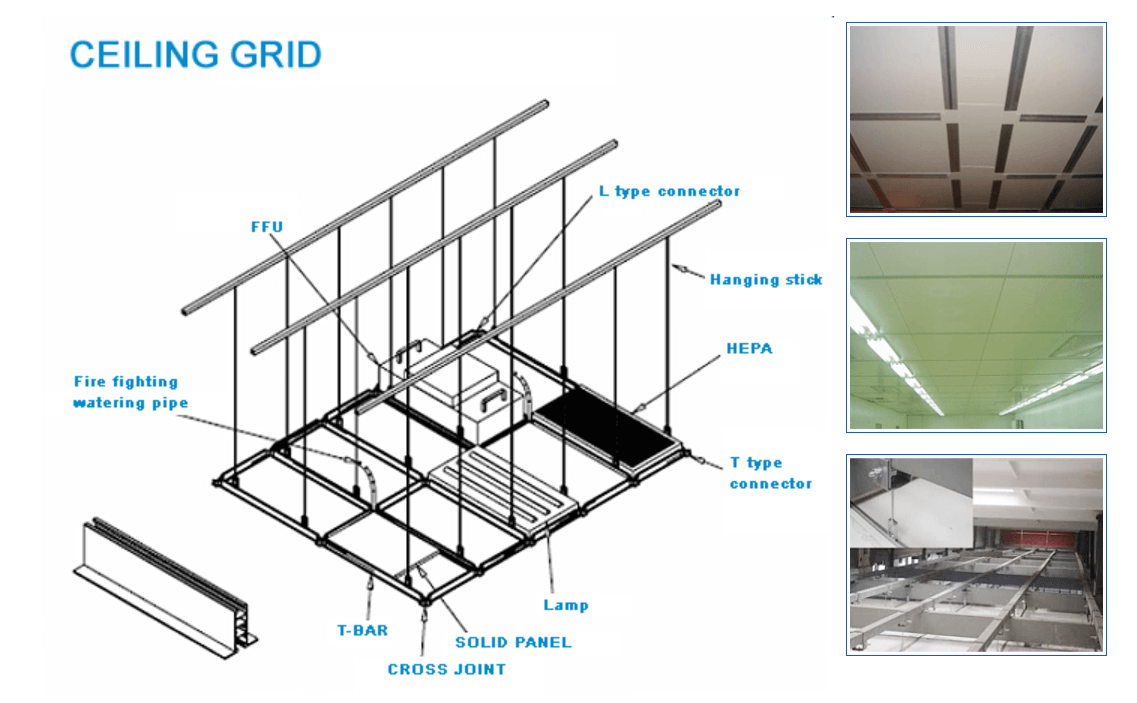 Features
Modularized in factory to secure the standardized quality of unification, preciseness and performance.
Epoxy coated to resist corrosion.
Light weight to ensure easy assembly and disassembly without damaging its structure.
High strength to bear heavy attached objects like lighting fixture or fire extinguishing devices.
Specification
Vero CeilingGrid Specification

A.T-BAR:

1. 6063 aluminum extrusions with 10um anodized clear finish.
2. Max tensile strength= 1105 kg.
3. Deflection=2.38 mm when 300kg weight loading on 1m T-BAR.

B.Connectors:

1. Al die-casting material
2. Epoxy Coated.
3. Integrated with fire sprinkler and cable connector.

C.System compatibility:

1. Integrated with HEPA, FFU and lighting system.
2. Compatible with partition system.
3. Coordinated with AMHS system.
4. Class 1 ~ 10000 Cleanroom.
Vero Ceiling Grid Specification
A.T-BAR:

1. 6063 aluminum extrusions with 10um anodized clear finish.
2. Max tensile strength= 830 kg.
3. Deflection=3.6mm when 300kg weight loading on 1M T-BAR.

B.Connectors:

1. Carbon Steel Material
2. Epoxy Coated.
3. Integrated with fire sprinkler and cable connector.

C.System compatibility:

1. Integrated with HEPA, FFU and lighting system.
2. Compatible with partition system.
3. Coordinated with AMHS system.
4. Class 1 ~ 10000 Cleanroom.
Apply to CLASS1~10000
Application
Hospital, Hi-Tech Cleanroom, Wafer fabrication, food process factory, GMP pharmaceutical factory, and any kinds of clean room
Assembling Decomposing Drawing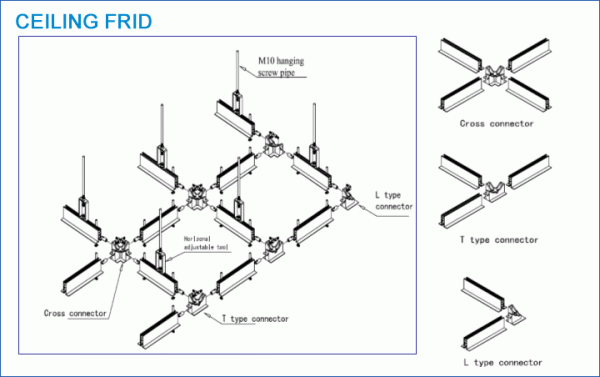 Assembling Decomposing Drawing


Function for Ceiling Grid